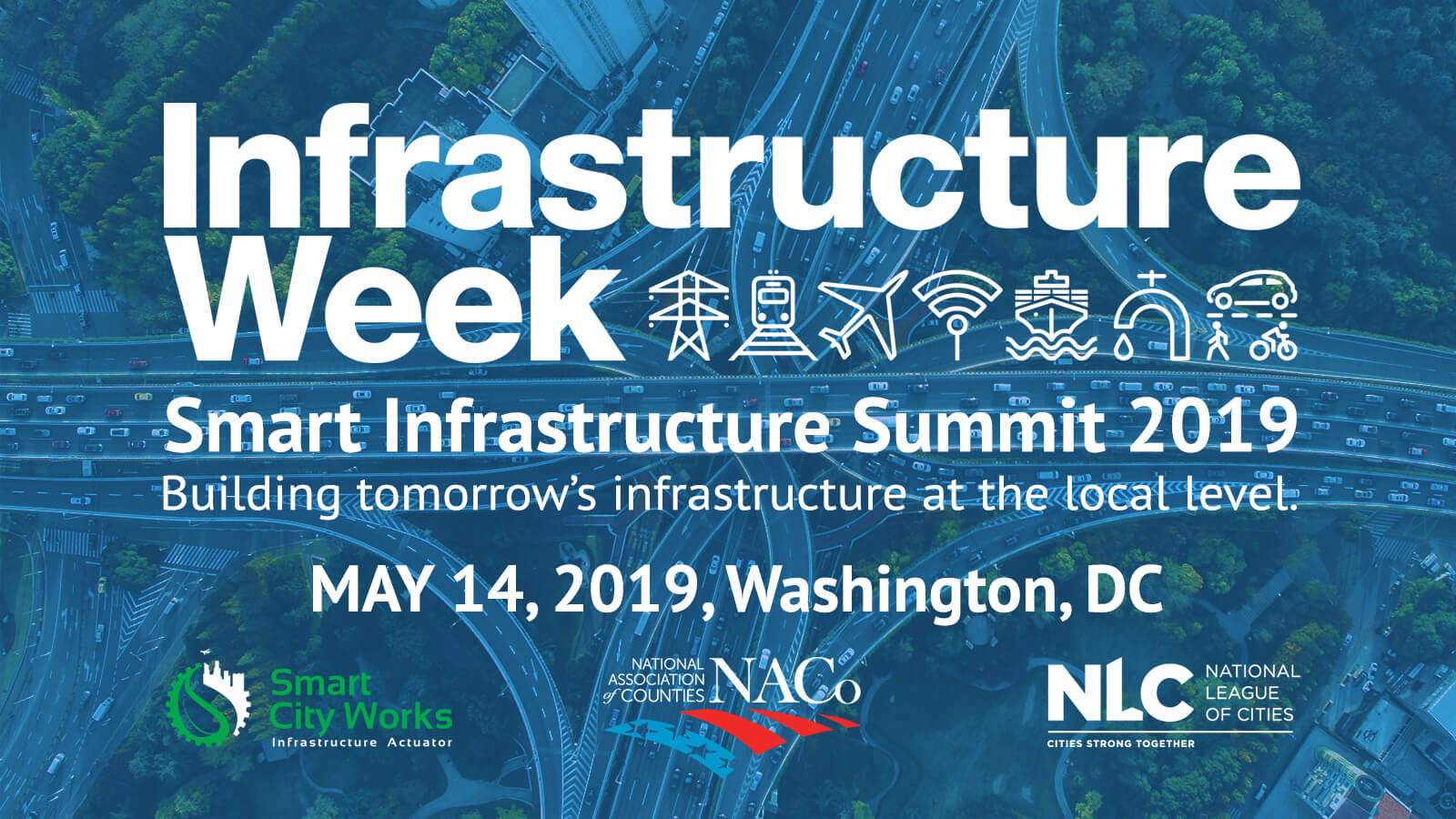 City-County Briefing Center
660 North Capitol Street Northwest
Washington, DC 20001
It's #TimeToBuild, and we believe the timing is perfect to consider technology and connectivity as new infrastructure is built, as a fundamental part of the thinking, planning, investment, implementation and ongoing management of "smarter smart communities."
Smart City Works is hosting a day-long seminar in Washington, DC as part of Infrastructure Week, an annual series of events.
Our seminar will focus on the intersection of the physical and digital worlds, bringing experts in building smarter villages, towns and cities using connected solutions. Whether more efficient roads, bridges, tunnels and public transportation, the control and management of energy usage that reduces cost and carbon emissions, the use of cameras incorporated into assets to enable law enforcement to keep citizens safer and respond to natural disasters faster – technology is the lifeblood of next generation public investment in sustainable infrastructure.

Time
Title
Description
8:30AM-9:00AM
Doors Open, Registration, Coffee and light refreshments
Arrival and Check-in
9:00AM-9:05AM
Welcome remarks
Clarence Anthony, Executive Director, National League of Cities
Matthew Chase, CEO and Executive Director, National League of Cities
9:05AM-9:20AM
Setting the Stage: Technology, Infrastructure, and Government – A Global Perspective
Presentation by George Thomas, Principal, New Urban Informatics
Introducer: Robert Mazer , Founding Partner, SmartCityWorks
9:20AM-9:50AM
Framing Presentation: Resilience and the Cyber-Physical World
Christopher Rezendes, Founder, IOT Impact Labs
Don DeLoach, IoT Thought Leader, CEO, Rocket Wagon Venture Studios
Introducer: Robert Mazer, Founding Partner, SmartCityWorks
9:50AM-10:50AM
Lightening Talks: Defining Smart Infrastructure – Examples and applications across modes
• Mobility: Kris Carter, Co-Head, Office of New Urban Mechanics, City of Boston, MA
• Water: Biju George, EVP, Operations and Engineering, DC Water
• Energy: Lidija Sekaric, Senior Director of Marketing and Strategy, U.S. Center of Competence in Distributed Energy Systems, Siemens
• Construction: Denise Roth, Chief Development Officer, WSP and former Administrator, GSA
• Intelligent Buildings: Lisa Brown, National Senior Director, Local Government and Municipal Infrastructure, Johnson Controls
• Introducer/MC: Zachary Schafer, CEO, Infrastructure Week
10:50AM-11:20AM
Fireside Chat: Local Leadership in Smart Technology
• Commissioner Randy Maluchnik, Carver County, MN, NACO Transportation Chair
• Mayor: TBD
• Reporter: TBD

11:20AM-11:50AM
Fireside Chat: Funding, Financing, and Procuring Digital Infrastructure at the Local Level
• Robert Stalzer, City Manager, Fairfax, VA
• Robert Johnson, Senior Vice President, Hannon Armstrong
• Moderator: Robert Mazer, Founding Partner, SmartCityWorks
11:50AM-12:10PM
Lunch Served
12:10PM-12:50PM
Luncheon Panel: The Case for Technology-Rich Regions
• Aundra Wallace, President, JAXUSA Partnership
• David Ihrie, Chief Technology Officer, Center for Innovative Technology
• Christina Winn, Director of Business Investment, Arlington Economic Development, Arlington County, VA
• Brooks Rainwater, Center for City Solution, National League of Cities
• Moderator: Erica Pandey, Reporter, Axios Global
12:50PM-1:30PM
Panel: Protecting Smart Infrastructure – Data and Cyber-security at the intersection of digital and physical infrastructure
• Carlos Rivero, Chief Data Officer, Commonwealth of Virginia
• Phil Horvitz, Chief Technology Officer, Management Services Group, AECOM
• Joseph Averkamp, Vice President, Systems and Solutions, Parsons
• Moderator: David Heyman, Founding Partner, Smart City Works
1:30PM
Closing Remarks
Greg Sauter, Founding Partner, SmartCityWorks
Smart City Works Supporters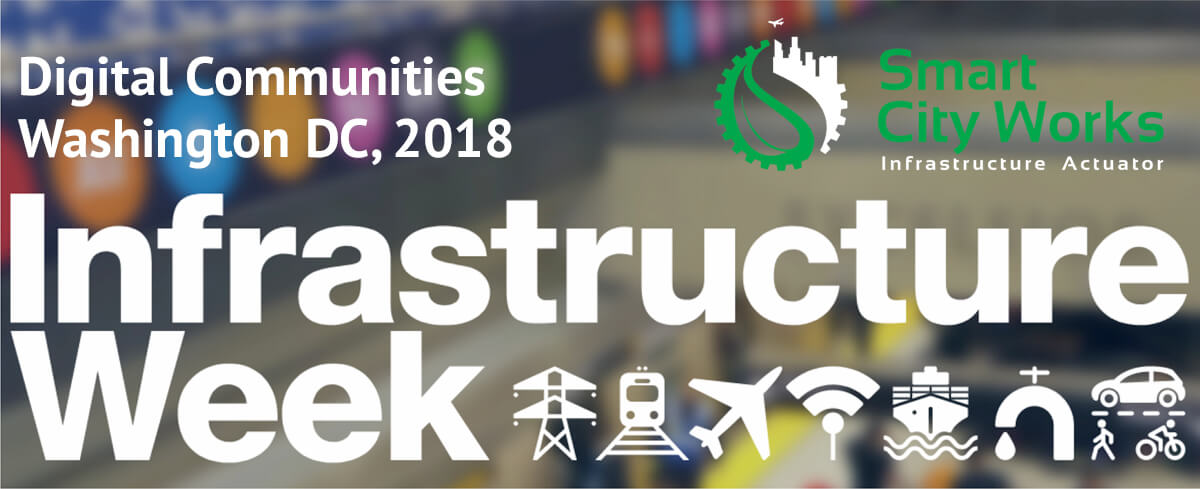 Smart City Works Infrastructure Week Digital Community Seminar
Our mission is to build and launch next generation IoT infrastructure start-ups.
We are a new class of non-profit business accelerator to take the best ideas and inventions in civil infrastructure and technology and transform them into high-performing growth businesses that improve livability, operations, and resilience of cities.
Specifically, we:
Identify and speed commercialization of the most promising ideas and companies focused on improving how we design, build, and operate civil infrastructure;
Support business development and growth strategy development for start-ups, emerging companies and even mature ventures;
Foster local and regional economic development.